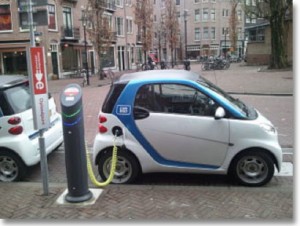 What Are ZEVs ?
Zero Emission Vehicles (ZEV) are vehicles with no harmful tailpipe emissions and include plug-in electric vehicles (PEVs) and fuel cell electric vehicles (FCEVs).  PEVs include both battery electric vehicles (BEVs) and plug-in hybrid electric vehicles (PHEVs).
How Are PEVs Recharged ?
In general, recharging a PEV involves connecting the vehicle's recharging cord into one of three types of electricity sources:
Alternating Current (AC) Level 1  –  typically uses a standard 120 volt electrical receptacle, and has the longest recharging time (overnight).
Alternating Current (AC) Level 2  –  typically uses a 240 volt branch circuit/ charging equipment, and recharges at approximately 3X the speed of AC Level 1.
Direct Current  (DC) –   typically uses 400 volt charging equipment, and can recharge in as little as 30 minutes.
What Permits Are Required For Upgrading Home Wiring For A PEV?
Modifying a home's wiring system (e.g., adding a receptacle or branch circuit) requires an electrical permit.  "Hard wired" (i.e., not plug-in) recharging equipment must be labeled by an approved US (or Canadian affiliate) testing agency.  Local utilities also offer lower rates for PEV recharging, which typically requires the installation of a separate electrical meter.  Other installation considerations include location (i.e., weather exposed) and whole-house electrical capacity upgrade.
Check the Links below and your local utility's and jurisdiction's websites for additional information.
Links
BUILDING in CALIFORNIA
California Air Resources Board
California Office of Planning and Research