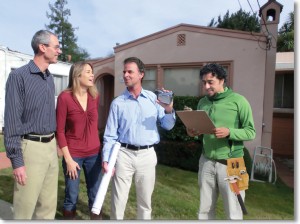 Doing a project on your own or hiring a contractor can be an anxiety ridden affair. Many marriages have been ruined by over budgeting and the strain of extended periods of your house being in pieces. Think of this site as a Homeowners Checklist and use the links to prepare yourself. Don't try to avoid the hassle of getting permits and approvals. There can be severe consequences if you are caught and unpermitted work must be disclosed upon the sale of your property. Unpermitted and unapproved work will not add value to your home. On the contrary, it may decrease the value even if the work "looks "nice to the untrained eye. Many homeowners try to do their projects on the weekend to avoid City staffers. But most homeowners are caught because their neighbors turned them in, not by roaming "building police" There are other responsibilities too, such as:
In California, you are governed by building codes of the state and also the jurisdiction (either the city and/or county) where you live. Many jurisdictions have their own home webpages that contain useful information.
Permits
If you are caught by the building department doing work without permits you will be issued a stop work order and be fined. You will not get the Building department help you would have otherwise. Most unpermitted work needs to be removed. So, how much money did you save then? Also, even if you get a permit, do the work and let it expire without approvals, it is considered work without Permits and don't be surprised to have a code enforcement inspector show up with a violation notice that requires you to post a bond and obtain a compliance plan to complete the work with approvals.
Be sure to familiarize yourself with your municipal codes and use the permitting and building handouts and forms specific to your jurisdiction.
 Finding the Right Contractor
Selecting a contractor is a major task too. Just because Uncle Harry has a recommendation is no reason not to do your due diligence. Please visit the page below to understand the requirement and your responsibilities. It also gives you the resources to complain about a contractor. Remember, you get what you pay for. That is especially true when it comes to the construction industry. Just because the guy has a Pipe Cutter in his truck doesn't make him a Plumber.
And if you're looking for the right person to do the job, we have a number of service and product providers who have been vetted by us in our Service Providers for Your Project page.
Building Codes
It's also important to get familiar with the rules and codes that apply to the scope of work that you or your contractor are engaging in. This site should be able to help you be the expert and understand the rules that your contractor may be unfamiliar with. Just because your contractor has 25 years' experience and you have checked them out, doesn't always mean they are current in their knowledge of the newer regulations. There are multiple changes to the codes. If you can, be there with the contractor for inspections and be sure that inspection etiquette is being followed. You don't need a hot head dealing with the Authority Having Jurisdiction. Also, insist that the contractor be present for the inspection. (See inspection etiquette). When you hire a contractor, make sure they are the ones obtaining the permit. It makes it easier for you if the job goes bad. Also be sure that your contract includes a clause that the contractor obtains all required inspections, special inspections and approvals.
This will protect you from getting dinged with a lot of extras that were the responsibility of the contractor. Again and again, we hear stories about contractors blaming the City or inspector for making them do something unanticipated by the contractor. Usually it happens because the Contractor isn't up to snuff on current regulations and he didn't bother to ask the building department about any special requirements, ordinances and code bulletins that affect your project.
Now that you get the picture, Click below to get started…
Before going to the Building Department
Useful Links for the Homeowner