What Are Hazardous Materials ?
Hazardous materials ("HazMat") are substances that can harm humans, plants, animals, property, and the environment, including
explosives
flammable solids
flammable liquids
corrosives (acid, alkali)
oxidizers & organic peroxides
radioactive (uranium, plutonium)
toxics and pathogens (poison, biohazard)
gases (flammable, non-flammable, poisonous)
miscellaneous (asbestos fibers, lead-based paint, mold)
The US Department of Transportation regulates the transport of hazardous materials.  The US Occupational Safety and Health Administration (OSHA) regulates the handling of hazardous materials in the workplace and response to hazardous-materials spill incidents.  The Environmental Protection Agency regulates environmental cleanup.  The Consumer Product Safety Commission regulates household hazardous materials.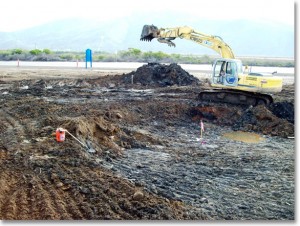 The Department of Toxic Substances Control regulates Hazardous Materials in California.DTSC has five general classifications of Hazardous Waste  –  F-list (e.g., solvents), K-list (e.g., pesticide manufacturing), P-list and U-list (e.g., pharmaceuticals), and M-list (e.g., fluorescent lamps) and four general characteristics of Hazardous Waste  – ignitability, corrosivity, reactivity, and toxicity .
What Are Common Hazardous Materials On Construction Sites ?
Asbestos is a mineral fiber that is found in nearly every older building because of its widespread prior use for heat and chemical resistant.  It was used extensively in plaster, paint, adhesives, flooring tiles, siding, roofing, and pipe/ boiler/ duct insulation.  Lead-based paint was banned as a paint additive in 1978.  For the preceding 100 years, lead had been used as a preservative and quick-drying ingredient.  Lead was also used in ceramics, pipes, copper plumbing solder, gasoline, batteries, and cosmetics.  Lead from paint is one of the most common causes of lead poisoning (e.g., sanding dust, backyard soil).  Removal (certification) and disposal (classified landfill) is rigidly regulated by the state and local District Attorneys (environmental crime).
Additional hazardous materials commonly occurring or used on a construction site include mold, mercury, sewage overflows, pesticides and herbicides, motor oil and fuel, solvents, acids, pressure impregnated wood, septic systems, underground storage tanks and hydrocarbon plumes, and fugitive dust and storm water runoff.
What Is A MSDS ?
The Material Safety Data Sheet provides workers and emergency responders with procedures for handling hazardous materials safely, including information for fire suppression, toxicity/ first aid, storage/ disposal, and spill handling.
Spill Notification  –  When/ Who/ How
Both the federal government and the state have stringent notification requirements for spills of hazardous materials above threshold levels ("significant").   Typically, the first reporting should be to the local Fire Department or Fire District (9-1-1).  If an uncontained spill moves into a secondary transport system (e.g., storm drain, creek, estuary), other state and federal agencies (e.g., Coast Guard, Fish and Game, Regional Water Control Board) are notified and may participate in the clean-up.
Contractor Certification For Hazardous Waste Removal 
The Business and Professions Code prohibits contractors who do not have a CSLB Hazardous Substance Removal certification from removing or remediating hazardous waste, including underground storage tanks.   Construction and Demolition Debris that contains hazardous waste (e.g., pressure treated wood, asbestos, lead paint) or universal waste (e.g., fluorescent and mercury lamps) will not be accepted at local Household Waste Disposal facilities and must be disposed at transfer facilities or specialized commercial firms.
Check the Links below and your local CUPA contact for additional information.
Links
BUILDING in CALIFORNIA
Quick Links
Sustainability
Hazardous Waste Regulatory Limits

Regional Water Quality Control Board
California Department of Toxic Substance Control
California Department of Fish and Game
US Coast Guard
US Bureau of Land Management
National Fire Protection Association
California Office of Emergency Services
Contractors State License Board
California Occupational Safety and Health Administration